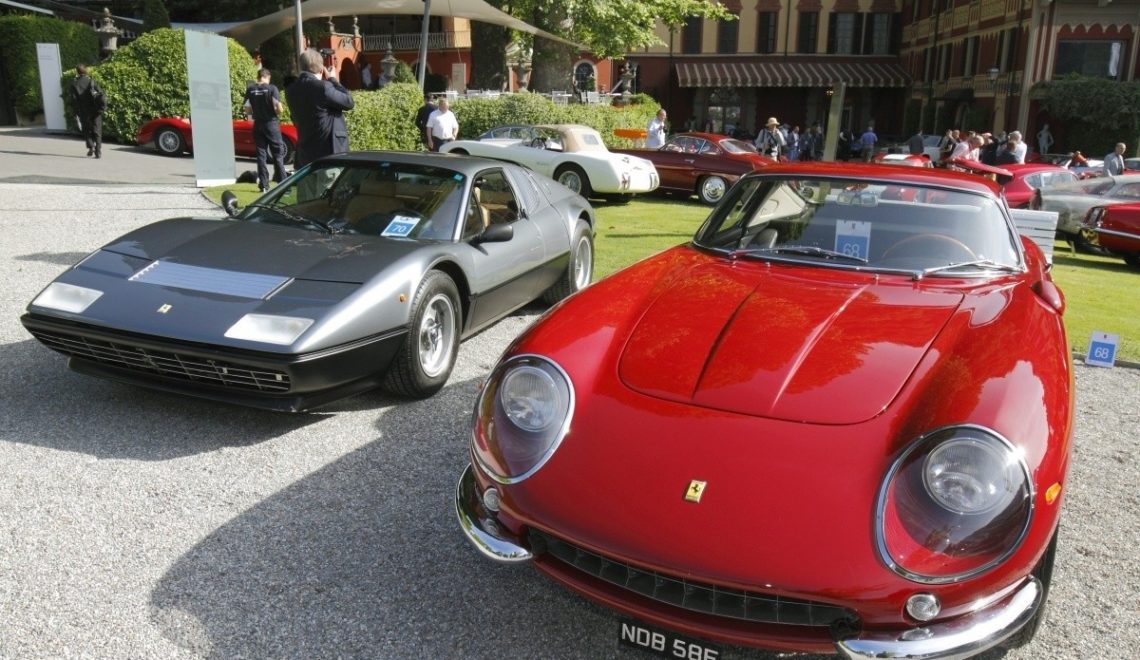 On the weekend, 20-22 May, two villas on the shores of Lake Como in Italy played host to one of the best-known European classic car event, the Villa d'Este Concorso Eleganza. This year there were 52 cars, 6 prototypes, 30 motorcycles and thematic exhibitions by BMW.


Cernobbio is a very picturesque village on the shores of Lake Como in Italy. There are many elegant villas, including Villa d'Este which was built in the 16th century. Today it is a five-star hotel. In 1929 it was there that a Concours d'Elegance was held, showing the latest Italian automotive masterpieces. Between 1929-1949 there were 10 such events. In the 1990s Angelo Tito Anselmi, a very profilic Italian journalist and historian resurrected the event and used the Villa d'Este as its venue again. In 1999 BMW joined as a patron and later as a sponsor. Soon there was not enough space at the Villa d'Este so there was another villa, the Villa Erba chosen. That's how the current set-up came to be: on Saturday invited guests and the jury looks at the cars at Villa d'Este. Here several awards are being presented. At the same time BMW has a thematic exhibition at Villa Erba together with the concours of motorcycles. On Sunday all cars move to the Villa Erba, which is being transformed into a picnic-setting with deckchairs, buffets. Sunday morning it is time for the motorcycle awards' ceremony, followed by the awards' ceremony of the cars on Sunday afternoon. Due to the big crowd, organisers are then accompanied by staff from the local police.

According to Manfred Grunert, the Head of Archives at BMW Group Classic who's part of the organising committee said that this year there were 400 applicants. The first filter is FIVA: the organisers let the issue of originality be handled by FIVA, so only FIVA-approved vehicles can apply.
With such a high number of applicants it is absolutely necessay to have a structure. Therefore the selecting committe first came up with a number of categories, including Pre-War Decadence, Petite Performance – Pretty Pocket Rockets, Driven by Excess – From Glam Rock to New Wave and so on. And then they filled the categories with appropriate vehicles. Then it was down to the public and the jury to select the winners. The automotive jury included Ian Cameron, former Chief Designer at Rolls-Royce, Patrick Le Quement, former Head of Design, Renault and Charles Lord March, from Goodwood etc. Motorcycles were judged by Carlo Perelli, a respected Italian writer, the flamboyant Paul d'Orleans aka "The Vintagent" and Arnošt Nezmeškal, Director of the Transport Department at the National Technical Museum in Prague and others.

Two days (or two and a bit if you include the gala dinner on Friday evening) is not nearly enough to let everything sink it. Journalists and photographers are zig-zagging between the two villas not to miss any important. On Sunday morning at Villa Erba, the cars before they take their place are being staged by a group of photographers. It was very much like a red-carpet event with celebrities – but in this case the celebrities were classic cars.
It is always difficult to choose favourites. I've been a long-time admirer of the Ghia Supersonic series, so I was happy to see one. This Fiat 8V-based previously belonged to Lou Fageol, who fitted some really strange bumpers. Ion Tiriac, a retired Romanian tennis player and businessman brought along a Rolls-Royce Phantom IV, which was once owned by Aga Khan. For racing car fans a Porsche 550 RS with adjustable spoilers, conceived by Michael May in 1955 and a Ford Escort rally with original body were the highlights. The oldest car was a 1920 Delage from Austria, while the car coming from the farthest distance was the ex-Clint Eastwood Ferrari 365 GT/4 BB, which travelled from Thailand. The award for the "Best Preserved Vehicle" went to a 1961 Alfa Romeo Giulietta SZ Coupé – only one half of the vehicle was painted the other was left in its original state. "Best of Show by Public Referendum at Villa d'Este" was given to a 1933 Lancia Asturia Serie II with aerodynamic body by Castagna for Vittorio Mussolini, son of Benito. Its current owner bought the Rosso Bianco collection eight years ago together with Evert Louwman. When most of the cars went to the Louwman Collection, he kept the Astura to himself.


The Best of Show Award was given to a 1954 Maserati A6 GCS, which participated at the 1955 Mille Miglia race.


Among the 30 motorbikes, a Czech Böhmerland and a 1937 DKW SS 250 from the Grom collection represented Central Europe. Best of Show went to a 1929 Grindlay-Peerless 100.


BMW also exhibited dozens of classic models on the lawns of Villa Erba. At a separate pavillon all the Hommage models and their inspirations were presented.

Thanks very much for text Négyesi Pál and photos Papp Zoltán.